A peaceful hot-air balloon ride turns deadly as the passengers notice a man killing a woman, and he notices them. 
Title: Dead Woman Walking
Author: Sharon Bolton
ISBN: 1250103444 (ISBN13: 9781250103444)
Genre: Thriller
Series? No
Publisher: Bantam Press
First Publication Date: April 20th, 2017 (368 pages)
Available Formats on Amazon:
e-book $12.99

Hardcover $15.78

Paperback $16.99

Mass Market Paperback $8.49

audiobook available through audible
 Why I chose this book: 
While looking at Thrillers, I noticed this was a new one, set in England and the premise intrigued me, so I picked it up. I am very happy I picked this one up. 
Author Interviews:
Significance:
There are twists here I do not think are done often, also the addition of the hot air balloon was a very different plot device. 
Awards:
N/A – only published this year
Synopsis:
Jessica Lane takes her sister, Isobel, on a hot air balloon trip for her 40th birthday. The air is crisp, the weather clear, and all is well, until they spot a woman running from a man carrying a shotgun. When the man hits she on the head with a huge rock, the hot air balloon passengers know they've stumbled upon something they shouldn't have. There is no cellphone service, the balloon won't move faster, and now the man is chasing them down on his bike. 
A crash landing leaves just one survivor. She has seen the murderer's face and he has seen hers. Not knowing who to trust, she tries returning to where she feels safest, but even there may not be safe from this man. He is determined not to let his crime be known, so he cannot let this last person survive. The longer this chase goes on, the more they learn about the other and realize there may be more to this all than they knew. 
Evaluation:
I cannot remember the last time I cursed so much while reading a book. This book is frustrating, but in a good way that gets your heart racing and gives that desire to pull at your hair in those uncertain moments. 
First let me talk about the characters. This is hard to do, because most of them have died and I don't want to give anything away 🙂 Our 'survivor,' who the police figure out is Jessica Lane, is wildly clever and crafty. As the reader learns more in the background chapters about Jessica's life and her investigations, they (like me) may come to feel a sense of connection to Jessica — a desire for her to live! Patrick, is very difficult to like, but in that way I think it makes him an interesting antagonist. His family, the Faas, have an interesting flavor to them, although I wonder on the use of 'gypsy' and if this is yet another book which makes these types of people look bad. 
This book is more focused on the plot. While there are chapters focused on the past, to an experienced reader, I do not think this will be a problem. To an audiobook reader, it may be confusing at times, especially if it cannot be read all at once, since they might forget dates which become a bit more important towards the end of the book. When those end chapters say "Two days before" they mean the day of the crash! Anyhow, there is always something going on in this book and the short chapter lengths make the book feel more intense. 
There are a few twists to this book, some I saw coming, some I suspected, and a few I was so clueless about. I already plan on recommending this one to people.
Other Reviews: 
From Amazon: "Criminal, policeman, victim: Bolton plays the three sides of her triangle deftly against the middle, delving into their pasts and presents but hinting at a future readers can only guess at…guaranteed to provide its share of chills."
— Kirkus Reviews

From Novelist: Bolton's (Little Black Lies) latest stand-alone hits the ground running—so to speak—with a terrifying hot-air balloon crash. The passengers witness a murder from the air, and the perpetrator stalks the balloon from a motorbike; eventually, all but one of the passengers are dead . The survivor manages to evade the killer, but he knows she's alive and sets out to find her. Interwoven with the tense hunt are numerous other threads: a family that runs a human trafficking ring from their heavily fortified compound; the police officer investigating the balloon crash, who has his own complicated connections to the case; and the backstory of the surviving woman  and her late sister. The pace is propulsive, the plotting is twisty, and readers will tear through the book as the tension ratchets up. That said, some readers may find that the reveal in the final pages defies credibility and wraps things up a bit too neatly. VERDICT This will be the book of the fall for Bolton's fans and anyone who treasures the experience of staying up late reading just to find out what happens next. [See Prepub Alert, 3/23/17.]—Stephanie Klose, Library Journal –Stephanie Klose (Reviewed 08/01/2017) (Library Journal, vol 142, issue 13, p76)
Appeals: 
England setting, police aspect, current problems – illegal immigration, chase, multiple POV, flashbacks, fast-paced, suspense
I would recommend this to anyone interested in books with an English setting, or don't mind it, along with a chase (villain chasing MC) while the mystery slowly unfolds. 
"Clues for the Future"
Multiple POV: Patrick, Jessica (Police), Isobel (Nun), police officer, organ harvesting from immigrants
Rating:

Quality: 5★

Popularity: 4★




People may not know of this book, but I think I could push this one easily
Read-alikes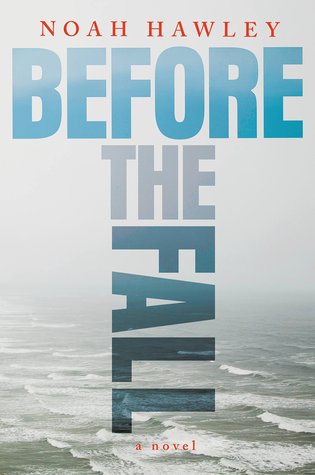 Before the Fall by Noah Hawley


Features survivors of a crash which has flashback chapters, written with an intensifying pace. 

Camille by Pierre Lemaitre


These are both suspenseful books which feature survival and witnesses

In the Woods by Tana French


Dark and suspenseful books with gripping writing which will keep readers hooked.
Booktalking Ideas: 
This may be a difficult book to book talk if focused on characters, because of the twists, but I think if focused on events and the plot, people may become hooked. Really going into detail about what is going on may get people's blood pumping. 
I think reading those few pages when Jessica notices the man and he notices them after hurting the girl and then him shooting the pilot would be great inclusions. It doesn't give anything away, but that gut-wrenching feeling will be conveyed. 
"Jessica brought her phone up and took his picture again. A clear shot this time. Unfortunately, he had the same."
Discussion Questions:
Did you think it was fair of the author to keep calling Isobel Jessica? Was it okay since that is what the police were calling her? 

What did you think about the scene with Neil? Was that needed? Did it add anything to the story? 

Organ donors are always in demand and all countries have different systems. Do you think it is fair that in Britain a family can dismiss a person's choice to donate their organs? What do you think of America's system? Should we allow people to sell their organs? 

There are many times Patrick almost finds Jessica/Isobel. Do you think this helped build the suspense or was it unbelievable? 

What do you think of the ending? Was it wrapped up too nicely? Is there anything you would have changed?