Don't read this. Don't get involved.
Sometimes not knowing is easier, while knowing what is out there will put you on a hit list. 
Title: John Dies at the End
Author: David Wong
ISBN: 031255513X (ISBN13: 9780312555139)
Genre: Horror, Humor, Fantasy/Sci-Fi
Series? Yes; John Dies at the End
Publisher: Thomas Dunne Books
First Publication Date: Aug. 17th, 2007 (378 pages)
Available Formats on Amazon:
e-book $9.99

Hardback $27.99

Paperback $9.98

Audio CD $26.57

audiobook available through audible
Why I chose this book: 
I have read David Wong's Futuristic Violence and Fancy Suits book and absolutely loved it. I recommend it to everyone. So, having heard about this one, and somewhat remembering the movie being mentioned when I was in high school, I've been meaning to read this one. As I have been in a horror phase, I decided it was time to break down and pick this one up. 
Author Interviews: 
Following the Nerd
Writer's Beat
Significance:
The writing of this book is quite unique. Even the content and story were very different from what I normally see. Was also made into a movie!
Awards: N/A
It all started on a regular night – David helping John's band with their beginning scene at a party. After seeing his crush, Jennifer Lopez (no, not the actress), making out with some dude, David goes home to get a few hours of sleep before work. This is where things get weird. 
John calls David freaking out early in the morning/late at night and once David gets to his apartment, assumes John is high on drugs since he claims to be seeing things that aren't there. John even admits to taking a drug from the Jamaican musician that was at the party. The drug is called Soy Sauce. David only hopes that the affects will wear off before their shift at their job, but it doesn't and next thing David knows, they are at the police station giving statements about the party, since people have died. 
David is caught up in a weirdness tornado and even taking Soy Sauce himself doesn't make anything make sense, instead it only opens up more questions. Who are the shadow people? What do the weird things want with their world? And will they ever live normal lives again? 
Evaluation: 
Loving David Wong's other book Futuristic Violence and Fancy Suits for over a year now raised my expectations of this book, one I have heard many good things about. Unfortunately, this book flopped for me. I could definitely see the appeal for some people, but the comedy portion was not funny to me. 
First off, the main characters are distinct from one another, although the side characters can sometimes run together. This could be because there are so many characters, some are only mentioned in part one or are introduced 2/3s into the book. For me, it was difficult to keep track of. 
The plot is done in an interesting way. There are two parts to this book and the first part truly feels separate from the rest of the book. The first part of the book is the introduction to the world and the characters to Soy Sauce and the mysteries of the world, while the second part is how they live their lives afterwards and more about the dangers of the world. The book could have been split into two different books and have still made sense. What ties them together is that David is telling this all to a reporter. 
The humor of the novel should also be addressed. While there were times the book provoked a single chuckle, most of the time I stared at the pages in confusion wondering if a section was meant to be funny. I have also never read a book that mentioned penises so much, ever. So, although there are times where it feels reading this book requires a certain amount of intelligence or open mind, there are other moments which seem made with 7th grade boys in mind. 
Another thing to note before recommending is the amount of gore and just plain disturbing moments in the book. 
Other Reviews:
lowbrow humor, satirical fiction, horror, HP Lovecraft, gruesome, offbeat, book to movie.
"Clues for the Future"
unreliable narrator, David Wong, Molly – dog, Amy – Big Jim's sis, Undisclosed location, Soy Sauce – drug, penis jokes, 
Rating:

Quality: 3.5★




I think more could have been done to improve it.

Popularity: 3★




This is a book for specific people and not everyone.
Read-alikes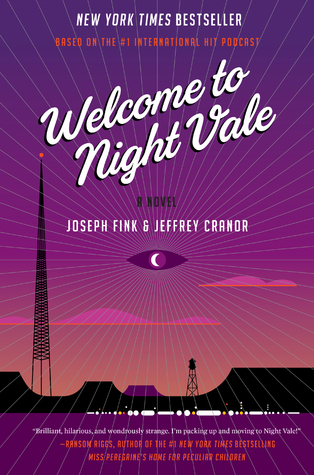 Welcome to Nightvale by Joseph Fink & Jeffrey Cranor


Both are quirky with dark humor, giving horror a different spin

Horrorstor by Grady Hendrix


Both are "satirical, funny, horror novels" according to Novelist

The Rampaging Fuckers of Everything on the Crazy Shitting Planet of the Vomit Atmosphere by Mykle Hansen
For people who liked the satirical and absurdness of John Dies at the End
The Last Days of Jack Sparks by Arnold Arnopp


Both are horrifying, yet funny satirical fiction with unreliable narrators
Booktalking Ideas
One way of going about this booktalk would be to use what the official synopsis has, warning people from reading this book. "Don't read this book. Even thinking about it, maybe too late for some of you, so forget about it. If you think you are being watched out, it may be time to change your name. If you truly feel compelled to read this story about David and John -fake names-, please just remember, don't take Soy Sauce, the newest drug, and none of what happens in this book is David's fault."
Another way of going about this one is to focus on all of the weird, mentioning the Jamaican magician, a drug named Soy Sauce, Jennifer Lopez (not the actress), Molly, the shadow people, and screaming hamburger patties. 
"And watch out for Molly. See if she does anything unusual. There's something I don't trust about the way she exploded and then came back from the dead like that." 
Discussion Questions:
What did you think? Does this humor speak to you? 

Do you think Molly the dog is the person who drove John and David back from the mall? 

What do you think of the title? Do you think John's death already happened and he  came back, will it happen in one of the sequels, or is it just a fun name?

Knowing what Soy Sauce does, would you take it? 

What do you think the sequel is about?