Stay low, retrieve the book, and mentor Kai properly are all Irene believes this mission will require until staying alive also becomes difficult. 
Title: The Invisible Library
Author: Genevieve Cogman
ASIN: B016JPTLJK
Genre: Fantasy, Sci-fi -> Steampunk, Mystery, Books About Books
Series: Yes; The Invisible Library
Publisher: Roc
First Publication Date: January 15th 2015 (352 pages)
Available Formats on Amazon:
e-book $2.99

Paperback $10.20

Hardback $35.08

MP3 CD $9.97

audiobook available through audible
Why I chose this book: 
This book has been on my 'to be read' list for quite a while and I have actually received a free copy of the fourth book in the series from Netgalley to read, so knowing I need to also expand on my Steampunk reading, I decided to read this book. 
Author Interviews:
Significance:
This is the first time I've seen a book about this topic, and not a TV show, which I find unique. The concept of different realities connected by a library is quite outstanding. 
Awards: 
Amazon.com Best Books (Science Fiction & Fantasy, 2016)
Chicago Public Library Best of the Best Book List (2016)
Irene is an agent for the Library, an organization connected to different realities and immune to time. The agents collect important pieces of fiction from these different realities to preserve books and stay connected. Her latest mission only just completed she is sent back out with a student, Kai, in tow to receive a significant copy of the Grimm fairy tales. Expecting a straightforward mission because of her extra companion, she is shocked to find herself throw into a version of London infected with Chaos, a dangerous man on the loose with connections to the library, and the book already stolen. 
Various London factions are searching and prepared to fight for the book. Irene and Kai will need to stay a step ahead of these different groups while also dealing with the strangeness that comes along with a world being Chaos-infected. In addition to all of this, Irene suspects that Kai is hiding something for her. 
Irene will need to solve the mystery while staying undercover and find the book first because it is not just her reputation at stake here, but the nature of reality itself and her very own life. 
Evaluation: 
This book is a wonderfully done steampunk novel, with not too much jargon. While with any steampunk novel there are new and interesting mechanics, this novel does not focus on them entirely and sticks mostly to the basics, with the few fun elements thrown in, such as attacking alligators. The language is not so detailed or explanation-filled to make a reader's eye glaze over, but just the right amount, in my opinion. 
The concept is quite interesting and not the same as the TV show: The Librarians. While there are some similarities, such as people going out and collecting materials for the Library, the biggest differences are that this book has people gathering only books and they go to different realities with different levels of magic, science/technology, and chao-infection. These aspects create an interesting combination of fantasy and science fiction with characters zeppelins flying in the air, sponsored and supported by faeries. 
I also found the writing to be well done. One of my personal pet peeves is when the first book in a series feels like the first book — being more of the background and set up for the rest of the series, but this one could very well stand alone, if one didn't mind the few little mysteries not yet solved. So, the main mystery is solved and there are only a few loose ends that will tie the series together, I'm guessing. 
There are fun characters, all of whom can be kept separate. There are a few too many side characters with little mention, whom I would forget about, but the following text would help remind who they are. Irene is a strong, smart main character, who has room to grow and learn, which we can see in the novel. Kai, is mysterious, with multiple sides, so learning about him is fun. There is also a famous private detective, who I'm hoping will appear in later books. The other female character is an agent of the library as well and of course, the rival of the main character. This irked me, because this book now doesn't have any healthy female relationships. Hopefully the next book will improve on this. 
Other Reviews: 
Publisher's Weekly
Smart Bitches Trashy Books
Appeals: 
London, Steampunk, Books about books, engaging writing, world-building, likeable characters, suspenseful tone
"Clues for the Future"
Dragons – stable, Fae – Chaos, Irene, Kai, book thieves, museum, cliche romance, refreshing dialogue, mystery stronger towards end, Aldrech — villain, 
Rating:

Quality: 4★




The pacing did seem a bit off, slower to start, faster towards the end

Popularity: 3.5★




May only appeal to certain people, but does have many reviews
Read-alikes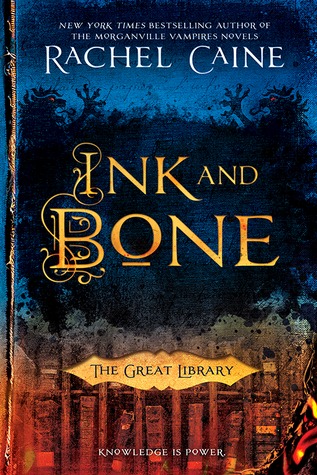 The Rook by Daniel O'Malley


This book also features secret organizations, likeable female protagonists, and magic powers

Ink and Bone by Rachel Caine


Both books focus on books with spies who steal books with a dash of magic in an alternate reality

Down Among the Sticks and Bones by Seanan McGuire


While this book has fairytale overtones, both have a female protagonist who travel to a different reality with magic written in an engaging way

Soulless by Gail Carriger


Both book are steampunk with magical creatures included, featuring likeable female protagonists solving a mystery in Victorian London. 
Booktalking Ideas
One way to do this booktalk would be to talk about Irene's mission. This may ne one way to start: "For Irene's next mission for the library all she has to do is retrieve a book while mentoring a student, Kai. Simple, until she learns the book has been stolen, the person who owned was murdered, and practically all the factions of London are trying to get their hands on it. Maybe, not so simple…" 
Another way to look at this is coming from the Library aspect, explaining what the Library is and what work Irene does for it, ending with information on her newest mission and noting the obvious complications that will come with it. 
If I was to do the second option, I might also include this quote:
"We are the Library," Coppelia pointed out. "What we don't know, we research." 
If I can, I would also say this one: 
Remind me why I took this job,' Kai muttered. 'People pointed guns at you. Right?' 'Yeah. Something like that.' 'And you like books.' She glanced sidelong at him. He flashed a quick, genuine smile at her. 'Yeah. That would be it."
Discussion Questions:
What did you think about the reveal about Kai? 

What did you think about the side characters? Do you have a favorite? Who do you think will be in the next book?

The 88th story gives us some background on our villain, but also raises more questions. What might you guess the tattoo on the librarians have on their back says? Do you think Irene is connected to the story? Do you have any other questions?

The Library is an interesting organization that comes creepier as the story continues. Do you think the Library might have other motives for collecting books? How about making sure their initiates do not have any family?

Will you continue the series? What do you think will happen? Do you think Irene will stay in this reality for a while?